The Proclaimers Have Got Nothing On Me
It seemed in July 2018 that all of my conversations started with "Did you know West Ham are going to have a women's team?" – it genuinely replaced "hello" as a greeting for a long time. My love for Women's football by this point was well-known. Since the 2015 World Cup, I had been following the game and Man City had been my team of choice, due to the fact that I live in Manchester and half the England squad was made up of City players. The news that West Ham was getting a women's team wasn't actually new. West Ham Ladies had been around for a while, playing in the Conference South. Their jumping up three leagues to the WSL was however very new and very exciting. It was after the announcement of football legends such as Claire Rafferty, Jane Ross and our Captain Fantastic Gilly Flaherty that I knew we were taking it seriously and I resolved to get to a game or two. However, after my first trip to see them play Arsenal, I realised I was in for a lot of expense and a lot of miles on the M6. So far it has been 10,087.8 miles to be precise.
By the end of this season I expect to get to reach just over 15,000 miles – even though I don't drive so I am a frequent flyer on the various national coach services. You don't travel up and down the country as much as I do without some mishaps and hilarity though. My biggest problem is that I am lacking any sense of direction. So many times I have turned into storage yards, car parks and once someone's garden due to my lack of wherewithal – but I always get there in the end. 
The question I get asked most is why. Being based in Stockport it would have been so much easier to have carried on following Manchester City and ignored my club's newest creation. This was never going to happen. Firstly, my mother would have killed me if I'd continued to support any other team when there was a feasible West Ham option. Having been brought up as a claret and blue since I was knee-high to a grasshopper, it would have been unthinkable to support a team who played against the Hammers.
Speaking of mothers - the game against Chelsea away on Mother's day last season will always be very special to me. One reason being my very forgiving mother who let me abandon her, all in the name of football. Two; drawing with Chelsea was a real game-changer for us in terms of how seriously we were to be taken in the league. Three; being surrounded by Chelsea fans as one of the only Hammers in my section cheering when Gilly Flaherty scored the equaliser. Like, actually jumping-out-of-my-seat, fist-pumping kind of cheering. Luckily I was in the family stand and was reassured that as she was an ex-Chelsea player I was safe. It was also the day that Mrs. Rafferty (Claire's mum) took me to her heart and decided I needed looking after.
Being surrounded by the opposition can also lead to some comedic moments. One of my first games was away at Arsenal. I was one of the only fans actually wearing colours for the Hammers so I was quite noticeable. Surrounded by Arsenal fans, I began my usual chanting for the Irons. It soon became a shouting match between me and some little Gunners as to who could cheer on their team the loudest. Finally, a very indignant 3-year-old turned to me to ask the age-old question; "Why do you support West Ham?" My standard reply to this has always has been "Well, someone's got to." He looked very pensive for a moment and then started chanting for the Hammers as loudly as his tiny little lungs could muster. His Arsenal-supporting parents did not seem too impressed with this development.
Another huge factor in my decision to start following my team was the feeling I got as soon as I saw those girls stepping out in the classic claret and blue for the first time. It felt as though a missing puzzle piece had been clicked in; that although I had been devoted to my time with Man City, the emotion cheering on the club I had been raised to support was something indescribable.
The absolute pinnacle of this so far has been the FA Cup semi-final vs Reading – even more so than the actual final. That game had everything; drama, passion and penalties plus a couple of face-breaks (I'm sure Jo Potter has forgiven Claire Rafferty for that one). It was the first game where there had been a sizeable crowd of West Ham fans so we did what all good West Ham fans do; we did not stop singing and trying to out-shout the opposition. 800 West Ham fans singing Forever Blowing Bubbles to a very emotional team that were singing back to us is a moment I will never forget. I still don't think my nerves have ever settled back from the rollercoaster of being so disheartened by the early Reading goal, the jubilation of the Alisha's equaliser and then the heart-stopping penalty shoot-out. I will be talking about that game when I am old and grey. It was also memorable because logistically I hadn't factored in penalties and the extra time. Which meant it was questionable how I was going to make it back home as my planned coach was long gone by the time I left Adams Park. Thank goodness for last-minute train deals.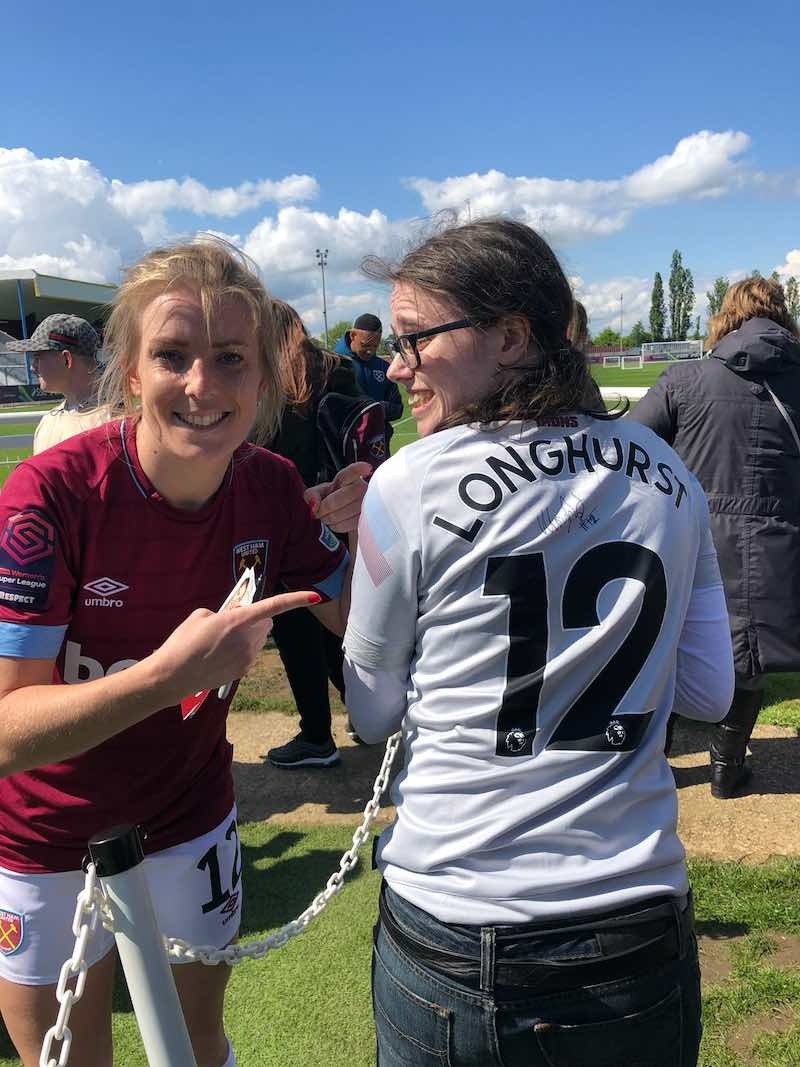 The final reason for doing what I do is for the love of the game and the love of that team as well. The whole squad puts 100 percent in every game and the fans feel it. Even when we lose you know how much that affects the girls and how much it spurs them on. That passion comes back to the fans tenfold and I have never seen a team who give so much to their fans and vice versa. It's definitely what spurs my dedication.
A shining example of this was my trip to Yeovil away. Logistically it was a nightmare on a cold December evening. I had to travel the day before stay overnight in Bournemouth before continuing on the Sunday morning; by far the most miles travelled for one game. However, a 5-0 win made it all worthwhile. I had got there super early and was waiting with the Yeovil fans to get into the ground. Many of them were bemused by my effort to get to the game and asked if it was all worth it (a common query). Just as they asked the question, the team bus pulled up and off came Raff, who came straight up to me and pulled me into a bear hug. The small perks of being a regular follower. It was a great game to go to and worth what ended up being 700 miles of travel.
On a more personal level, one of the greatest memories for me was the last game if the season. Gilly had promised me a shirt as thank you for my travels. She came through tenfold for me. At the end of the game she presented me with her FA Cup shirt which she had signed by the entire squad. And you wonder why I am forever grateful for and loyal to my team.
As an all-time favourite moment though, it's hard to beat something that happened at Bristol away. I was standing chatting with a couple of fellow Hammers about why our captain Gilly was on the bench when she was fully fit. We worked out she was probably on the yellow card cusp, meaning one more and she would have been out for the next game – which would have a struggle since it was the FA Cup final. If I have learnt anything it's to be careful about what you say as little ears can be listening. In this case, the two young daughters of the fellow Hammer I was chatting to. Gilly came over after a good win and made a lot of fuss of the little ones. A blonde-haired blue-eyed angelic-looking child tugged on Gilly's shirt and said those heart-stopping words.
"Gilly can I ask you a question?"

Gilly game as ever lowered herself to the small child eye line. "Of course you can mate."

"Why do you keep getting yellow cards?"
Ah the innocence of youth. I still giggle about that story now even though it was mortifying at the time.
People think I am insane for travelling as much as I do. It takes a lot of time and effort and planning. The logistics if travelling the first 10,000 miles has not been easy. However, I wouldn't change it. I have met some great people following this team and have seen a lot of the country. Even if it's just motorways and non-league football grounds.
You can read more of my travels here and see my thoughts on all if the games here:
www.adventuresinclaretandblue.com
https://www.youtube.com/channel/UCEVS54dHdUTvRc1ZKdPMSoA/featured