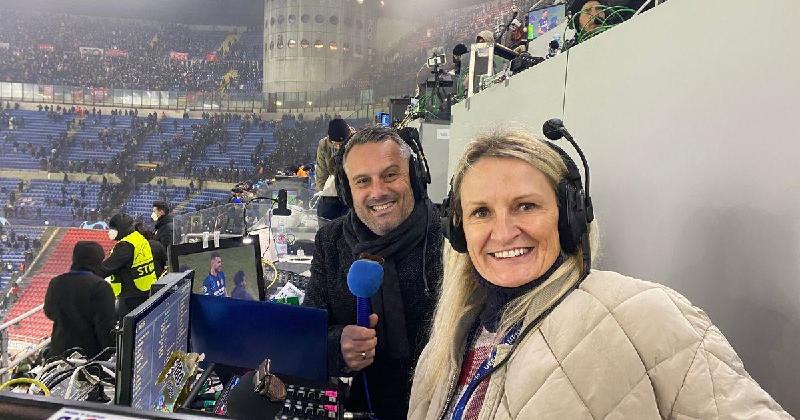 Women's Football Commentator and ex-player Lucy Ward chats to our very own Jamie Davies about this summer's Euro 2022.
Now Lucy Ward is a voice you may recognize in the world of women's football broadcasting over the last 10-15 years. Lucy has been heard on a long list of broadcasters over the years including the BBC, talkSPORT, BT Sport and Eurosport. This summer is a busy one for the former Leeds United player, as she will be heard on the airwaves on television and radio for the BBC and talkSPORT at over a handful of live Euro 2022 matches. Lucy gave up some of her time to sit and chat with The Women's Football Magazine to preview the tournament and what it is like to be a football commentator.
JD: Lucy, How excited are you for having a women's major tournament in England this summer?
LW: It was 2005 when England last hosted this tournament; I did a little bit of work for Eurosport which was the start of my commentary journey. I remember the impact it had then. When I was a player and when I was younger it was always 'women's football is going to get big next season' and it never quite happened. BBC have always backed it from 2005 and before that. They have always had good viewing figures.
You always thought it would get bigger the next season then the next year and so on. It does not always correspond that the people that watch the game on the TV will come and then watch it by coming to the grounds. In terms of the tournament, we are going to have the majority of the best players bar other nations we see at the World Cup. We are going to have that on show and people can come and watch it.
JD: With yourself commentating for BBC and talkSPORT this summer, does this tournament feel at all different to the others you have experienced?
LW: It's a little bit different because it is weird not traveling as I would usually go with a group of people. I was in France last time (for the 2019 Women's World Cup) and then you spend three or four weeks out there so it will be different now going to go games and then going home after each one - it will be a little like the Olympic Games in 2012.
It will be nice to be in England because usually I'm abroad and you can never gage what the interests is. You cannot engage what the feeling is like. For example when walking the dogs and then people stop me and go 'oh what did you think of this game' and so on. It is nice to feel that. You can also feel the support for England the further they get in this tournament.
JD: 2022 could be a great year for both England's men and the women's team, if the Lionesses win the Euros this summer then it might inspire the men's side to do something similar in Qatar. Maybe also Sarina Wiegman's team got a preview from Euro 2020 of when England played their matches at Wembley Stadium.
LW: That's it! I think the women's squad will be a lot more prepared for the extra attention and what I mean by that is the media alongside women's football over the years has been cheerleading and it needed to be cheer leaded because it was a young sport and it needed to be lifted off the ground to get people watching. I've commentated for the last 15 years and there's been millions watching when I do England games on BBC or Channel 4.
I think in 2019 in particular, the attention and scrutiny that the women got was not always positive and I don't think that they coped with it very well because that was the first time they received it. Comments like 'Oh she didn't play very well' or 'She didn't do this' with the players reacting like 'Hang on a minute, we're used to people saying well done or keep going'. I think that is more growth for the women's game but it's more difficult to handle. Phil Neville himself handled it quite well and he was obviously used to it in his career, he could handle pressure.
Now I think the biggest for England is the right sort of character having Sarina Wiegman lead the Netherlands to a home European Championship victory certainly helps these players. I remember being at Euro 2017 and the expectations were massive (for Netherlands) and they could have easily of crumbled but they didn't. That will be the bit that the England girls need to get right.
JD: Are there any weaknesses from the England squad that you are concerned about?
LW: The one thing Wiegman did, she does not do things for sentiment, was drop her captain after the first game at Euro 2017 because she had a different way or working. She is quite straight talking with her decisions and the players know where she stands therefore you have to get on with it, this is what you need in these situations.
England need the right characters and I would be very surprised if Wiegman doesn't pick Steph Houghton (interview was recorded before the England squad announcement) then I would be very surprised unless she really can't play in terms of fitness.
We have a great pool of young talent coming through but you also need those experienced players to get them youngsters through the tough times as every team has their ups and downs. You've got to have a player that can lift the team when coming off from the bench.
They don't score a lot of goals against teams at around the same level. They didn't score many goals at the Arnold Clark Cup so I do think scoring goals in big games is essential. You've got Ellen White who has scored in big games whether Wiegman starts her. I know Wiegman won't chop and change and she won't particularly rotate as she's not like that and did not do that with the Netherlands.
I'd like to see Ellie Roebuck with more game time as England's goalkeeper after her injury. I really like Roebuck and don't get me wrong I really like Mary Earps as well but I think she is looking like a top quality goalkeeper.
JD: In terms of other teams at the Euros, which ones can you see as a threat for the trophy?
LW: You can name 4 or 5 teams that could win it. The one I have my eyes on is Sweden because they have got a great mix of youngsters and also players that have been there and done that. They did well at Tokyo 2020 so Sweden are my team. I don't think many people are going to talk about them going into the tournament.
France always fallout with themselves so they are sometimes their own worst enemies, Spain in the last few tournaments have been 10 passes a goal and they can't get anywhere they just pass the ball well then their opponents score past them. But there is no denying that Spain are a force to be reckoned with this summer.
JD: Can you give us an insight on what you do as a commentator?
LW: It's quite intense. Every two years I have been at a tournament so I get used to watching some of the teams and the players but I do a lot of watching like spectating the warm-up games and checking out the formations that they play. It's mostly about watching the tactics in the matches I watch like how they play, how traditionally they play against certain other formations.
Then check out their history especially the players and see what the player's seasons have been like with their clubs. I need to get to know the players that I don't know, I may watch a lot of football but sometimes you have got to be very quick at picking up who's who.
I do a lot of reading and there is a lot more to be able to read now. Before you could not get anything and you had to wait until you got to the game before you found out stuff about certain players. It is a lot easier now.
It really is a full on gig.
JD: Last questions from me, Player to watch out for? Team to watch out for? And one word to describe your feelings ahead of the kick-off?
LW: Player to watch I'm going for Katoto who plays for France and PSG. Sweden are my to watch out for. And my one word to describe my feeling is 'anticipation'.
Big thanks to Lucy Ward for her time and we wish her the best ahead of the commentary duties at Euro 2022!